JOIN US FOR OUR FOURTH OF JULY CELEBRATION AND 78TH ANNUAL RODEO!!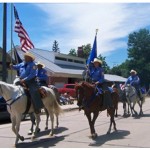 The parade theme for this year is "Nebraska – 150 of the Good Life. "To enter a parade entry please contact Jan Dancer at (308)386-8529 or email at jdancer@hotmail.com. Entries are due by 6:00 p.m. July 3rd. Entry forms are printed in the Courier times and may be dropped off at the Courier Times Office at 824 First Street or mailed to 28797 W. Suburban Rd. Sutherland Nebraska 69165.
July 3-Rodeo 7:30 PM
Free Swim Day June 3rd @ Sutherland Pool-12 pm to 8 pm (Adult Swim from 5-6), Sponsored by the Village of Sutherland
Junior Queen Luncheon and Speech Contest-12:30 pm @ Legion Hall
Rodeo at 7:30 pm
Beer Garden & Live Music @ The Sutherland Longhorn Bar ; DJ Bridwell Band 9 PM-2AM $7 cover,
July 4th: Pancake Feed-7 am to 10 am @ Grace Lutheran Church (freewill donation)
Firecracker Run sponsored by the Sutherland Team Mates & Lions Club-7 am @ the Football Field
Kids Races-9 am @ Soccer Field, Sponsored by the Chamber of Commerce
Frog & Toad Races Sponsored by Seifer Farms-10 am @ Soccer Field (Registration @ 9:30am)
Chamber of Commerce Lunch in the Park-11 am to 1 pm @ Railroad Park (freewill donation) Meet the Junior Rodeo Queen Contestants!
Parade-2 pm -starts at the Catholic Church , Sponsored by the Lions Club
Mechanical BULL Riding for Kids at the Longhorn after the Parade
Pie & Ice Cream Social – following the parade @ High School commons area, proceeds go to American flag project at Anchor Memorial Park
The Swimming Pool will be open from 4 pm-8 pm, Regular Fees
Rodeo and Rodeo Queen Coronation-7:30 pm @ rodeo grounds
Beer Garden & Live Music @Longhorn Bar July 4th: Abby Nicole, 9PM-2AM $5 cover
79th Annual Rodeo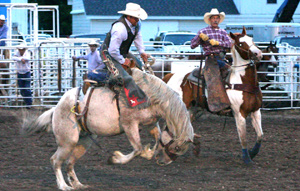 Adults $10.00
Children (ages 6-12) $5.00
Under age 6 Free