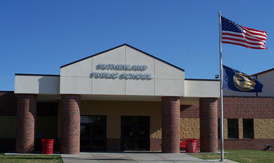 It is the mission of the Sutherland Public Schools to develop life-long skills; to foster a feeling of respect on a personal, community, and global level; and to expect and instill pride, enthusiasm, and responsibility in a cooperative environment.
The Sutherland School District is a K-12 system with a total of 380 students. Enrollment has been stable for the past 15 years.
Staff
The Sutherland School District employs both full-time and part-time certificated staff and classified personnel. Currently, the school staff consists of 33 teachers, two school counselors, one tech director, one elementary principal, one high school principal and a school superintendent. Part-time services are
received from the Educational Service Unit #16 in the areas of speech therapy and school psychology. Classified staff includes one bookkeeper, one principal secretary, three maintenance personnel, three food service personnel, six part-time teacher aides and three bus drivers.
Budget and Funds
Sutherland School District tax levy of $1.30497 is the lowest of any K-12 district in Lincoln County. The per pupil cost is $5,538.57 per year. The school facilities are very modern and are equipped with central air conditioning.
Curriculum and Testing
The Sutherland School District offers a wide variety of curriculum offerings with small class size kept in mind. Technology is at the forefront, with three computer rooms and two distance learning education rooms. All classrooms have two Internet connections. Sixty-eight percent of the students scored above the 50th percentile on the Comprehensive Tests of Basic Skills (CTBS) achievement test. The senior student average on the ACT was 20.7%. The Nebraska average is 21.4% with a national average of 20.9%. Of the 36 spring graduates, 75% are attending institutes of higher learning.
Post-Secondary Education
Sutherland is part of the Mid-Plains Community College Area which encompasses 18 counties. The area is governed by an 11-member Board of Governors elected by the citizens of the area served. Campus facilities are operated at Mid-Plains Community College at North Platte and the McCook Community College. The 1993-94 credit enrollment for the area was more than 4,000 students.
The University of Nebraska-Kearney offers bachelor degree programs in Criminal Justice, Elementary Education, Business Administration, and Special Education at Mid-Plains Community College.