Fourth of July Celebration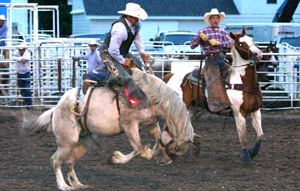 Few rodeos can say they get a good turnout for the slack, but that's exactly what the Sutherland NSRA rodeo boasts. Known as the Fourth of July rodeo, Sutherland is traditionally the third and fourth with slack on the second. "It depends how the holiday hits and when people have to go back to work, but we usually figure anywhere from 1,000 to 2,000 people are in the stands every night," said long-time volunteer and committee member Janet Mueller. The holiday event might not be listed as a festival, but it sure runs like one. "We have three days of activities going on in addition to the rodeo each night. It kicks off with a hamburger feed with our local grocery store followed by slack on the second."
Baseball Fields
Sutherland is proud of its Sutherland Sailors athletic teams and boasts wonderful outdoor sporting facilities for soccer, football and track and baseball. The soccer fields are used by neighboring towns, Hershey and Paxton as part of the American Youth Soccer Organization.
Sutherland Reservoir
3,000+ acre lake located just south of town offers fishing, birding, boating and swimming. The Sutherland State Recreation Area includes the lake and 37 acres of wilderness with three public access areas. Allows for year-round outdoor recreational opportunities.
Hunting & Fishing
Sutherland is located in the heart of Nebraska's best hunting country. The area's river and creek bottoms, open pasture land and fertile cropland provide excellent habitat for wildlife. This area offers a unique variety of hunting possibilities, including whitetail deer, pheasant, quail, duck and goose. To the north in the vast Sandhills country, mule deer, antelope, prairie chickens and grouse can be found in abundant numbers.
Pool Park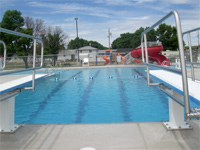 Swimming Pool P
ark is located on the West edge of town. It features a large outdoor pool, playground equipment and a softball complex. It is a fun environment for families. Spend the whole day keeping cool and full of fun activities!
Sutherland Oregon Trail Golf Course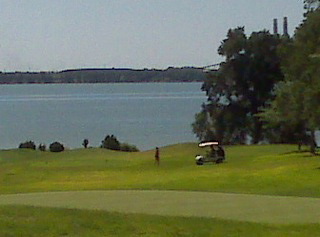 Located on the north shore of the Sutherland Reservoir, the Oregon Trail Golf Course offers nine holes of challenging play. The course is complete with cart rentals and a club house. Website: oregontrailgolfcoursene.org Phone: (308) 386-4653.
Maxine White Memorial Library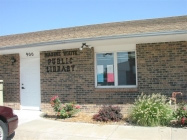 The Maxine White Public Library was founded in 1905 and has been a staple of Sutherland ever since. With 11,000 volumes and inter-library loan available, the public library is a wonderful place to take the entire family for reading fun!
Birdwood Creek
One of only two major Sandhills streams that drain into the North Platte River, the Birdwood Creek watershed is contained entirely within the Sandhills. This is an exceptional stream noted for its unique hydrology, diverse wildlife, and high-quality riparian areas. It is among the most steadily flowing waterways in the world.
Historic Steam Locomotives
The mainline of the Union Pacific Railroad is located across Lincoln Highway from downtown. About three times a year, approximately 500-700 people pull to the side of the road to watch the historic steam locomotive. Sutherland is the only community in Lincoln County that has a park next to the rail line and a pedestrian overpass.
Historic Lincoln Highway Centennial Celebration
To celebrate the 100th anniversary of the Lincoln Highway in 2013, the Lincoln Highway Association planned tours from both coasts along the early alignments of the Lincoln Highway. The tours started on Saturday, June 22nd from New York and San Francisco and met in Kearney, Nebraska on Sunday the 30th of June. The Centennial Celebration from July 1 to July 4 includes a car show, the Association's annual conference and local Independence Day Celebrations.
Flat Rock Riders Off-HWY Vehicle Park
15-acre park owned by Nebraska Public Power District offers dirt trails and motor-cross style track. Open year round. Located near Sutherland Reservoir approximately four miles south of town.
Lake McConaughy
Located approximately 30 miles northwest of Sutherland sits the largest reservoir in Nebraska, covering 37,500 acres. Waters and beaches offer camping, sail boating, wind surfing, swimming, water skiing, picnicking, scuba diving, hunting and world class fishing opportunities.
Mormon Trail
The Mormon Trail is the 1,300 mile route that members of The Church of Jesus Christ of Latter-Day Saints traveled from 1846 to 1868. Today the Trail is a part of the United Stated National Trails System. Mormon Trail ruts are located just a quarter of a mile north of the Sutherland State Aid Bridge on Prairie Trace Road. These are some of the best preserved ruts on the Mormon Trail.
North and South Platte Rivers
Snow melt from the Colorado Rockies at the Continental Divide is the initial water source for both the North and South Platte Rivers. The combined rivers flow a total of 900 miles; more than 580 miles within Nebraska offering canoeing, kayaking and tanking opportunities.
Ole's Big Game Lounge
Nebraska's most famous watering hole is located in Paxton, 11 miles west.
Oregon Trail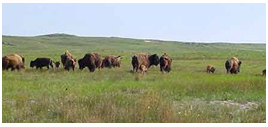 The Oregon Trail is a 2,000 mile historic east-west wagon route that connected the Missouri River to valleys in Oregon and locations in between. Remains of the Oregon Trail are south of the South Platte River. A monument is located at the rest area on the eastbound lanes of Interstate 80. Wagon wheels rest in the ruts of the trail, leading to the south over O'Fallon's Bluff.
Sandhills Cranes & Bald Eagles
Each spring, thousands of Sandhills cranes stop in Sutherland on their way to their nesting grounds. Crane watching is a favorite past time for locals and visitors alike. Winter finds hundreds of bald eagles at Lake McConaughy just a few miles west.
Union Pacific Railroad Park
Sutherland Railroad Park is located on land donated to the Village by Union Pacific Railroad from its right of way. It includes a large covered shelter, playground equipment, BBQ grill and picnic tables with horseshoe pits. It is an especially popular place to be during the annual Fourth of July Celebration. The park is situated as the best place to view the Heritage Trains as they make their regular journeys to and from North Platte. It is located just south of Lincoln Highway, directly across from downtown.