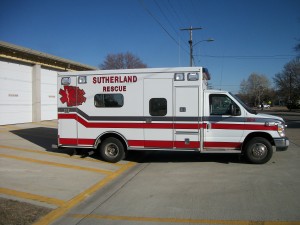 Sutherland Ambulance Service
Rescue Captain Paul Jochum
Rescue Lieutenant Renee Gregory
Rescue Training Officer Deb Jochum
The Sutherland Ambulance Service is a Basic Life Support service that tiers with the North Platte Ambulance service when advanced life support is required.
If you are in need of an ambulance please contact 911
All ambulance billing is done through EMS Billing Service. All billing questions should be directed to this agency.
EMS Billing Service
P.O. Box 641880
Omaha, NE 68164
Phone: 1-877-367-9111
Fax: 1-402-965-8594
If you are interested in joining the volunteer fire department or the ambulance service please contact the Fire Chief for more information. The fire & ambulance members meet and conduct training the fourth Mondays of the month at the Sutherland Fire Hall.