The Sutherland Chamber of Commerce meets every month on the third Wednesday at 6:00 p.m. at the Sutherland Lions Club Trap Range at 2383 N O'Fallons Rd.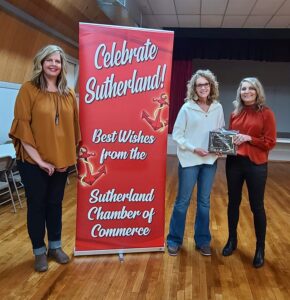 The organization is made up of business and individual members working together to help promote business in our community. Each year they sponsor the following community events:
Annual Scholarships for SHS Seniors interested in pursuing a business career.
Chamber Golf Tournament (the Saturday before the 4th of July)
Kids Races the morning of the 4th of July at the Football Practice Field
Community BBQ at the Railroad Park at 11:00 a.m. on the 4th of July
Annual Makers Market Craft and Vendor Fair the last Sunday in August
Drawing for Thanksgiving Turkeys
Christmas Parade of Lights
Candidate's Forum for local elections as needed
The Chamber also partners with the Sutherland Courier-Times newspaper to feature new members and a monthly "Celebrate Sutherland" feature that showcases a Chamber member. An annual holiday party is held to build camaraderie among members and present awards for individual and business members who have contributed to the Chamber and the community of Sutherland throughout the year.
To find out more information about becoming a member, please contact any Chamber member or:
PRESIDENT
Kaye Monie, Branch President, Hershey State Bank
(308) 368-5555
kaye@hersheystatebank.com
TREASURER
Sonya Hogan, Vice President Retail Banking, Adams Bank and Trust
(308) 386-4345
sdhogan@abtbank.com